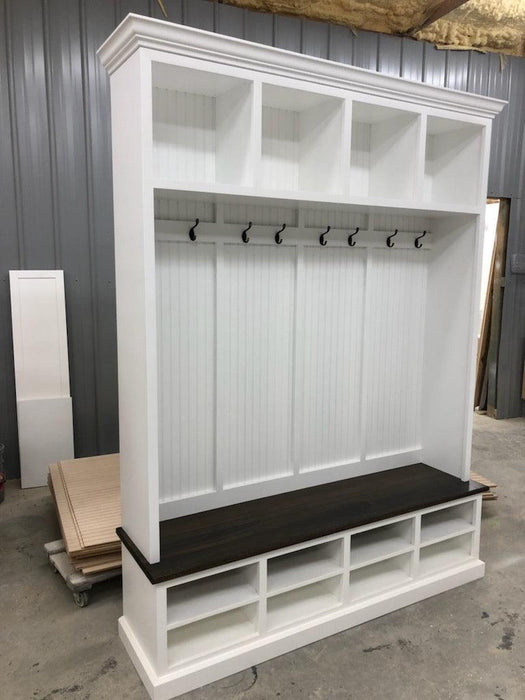 MORAGA 4 section mudroom shoe storage bench
Original price
$ 3,195.00
-
Original price
$ 3,195.00
Looking for a practical and stylish solution to keep your entryway organized? Look no further than our beautifully crafted mudroom bench. With plenty of storage space for shoes, coats, and bags, it's the perfect addition to any home. Plus, with eight standard hooks and the ability to customize it to your exact specifications, you can be sure it's tailored to your needs. Order yours today and enjoy a clutter-free entryway!
Dimensions:
The dimensions of the unit are 85 inches in height, 72 inches in width, and 17 inches in depth. The bench measures 70 inches in width, 17 inches in depth, and 18 inches in height. The unit includes four cubbies at the top, eight cubbies at the bottom, and eight hooks.
Color:
Our items are finished with lacquer and stained with Minwax stain, which we protect with a clear coat.   If you would like a color other than white or off-white, we can accommodate your request for an extra fee. If you're looking for custom color for your order, check out with this custom color fee in addition to your order!
Assembly:
Please note that this product comes in two separate pieces and it is essential to ensure that they are properly secured at both the top and bottom. For a safe and secure installation, it is recommended to seek the services of a professional to attach the product to your wall.
Customizations:
Do you need any customized features for this unit? Do you have a preference for a specific width, or do you need it to be flush against a wall? Or perhaps you require it to be shorter? We can assist you with all your customization needs and guarantee that the unit is tailored to your specific requirements. Please feel free to contact us for any special customization requests.
Care:
To maintain the quality of your item, simply dust it with a soft, dry cloth. We advise against using any harsh household chemicals as they may harm the finish.
Shipping:
Our furniture items come with free shipping to most locations in the continental USA. The shipping is free and the items will be delivered to your door. Please note that assistance will be required to unload the items once the shipper arrives. Please also note that installation is not included with this item.